Brought to you by Longford Community Resources CLG
Ken Whelan and Martin McGarrigle are delighted to announce two Community Water Management Courses in North and South County Longford!
For full information on the two courses and how to register visit (Longford.waters-project.com) or contact: ken@kenwhelan.info Tel: 0867835900 (KW) or 098252663 9 (MMcG)
Course will run Oct – Dec 2020, dates to be confirmed. More detail below on dates.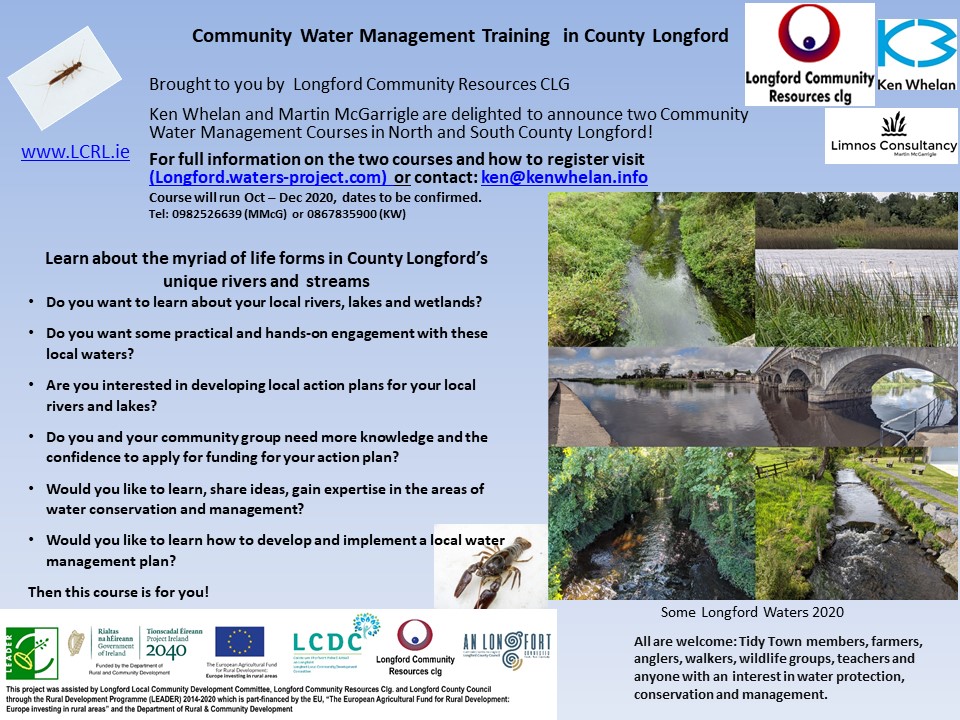 Learn about the myriad of life forms in County Longford's unique rivers and streams
•Do you want to learn about your local rivers, lakes and wetlands?
•Do you want some practical and hands-on engagement with these local waters?
•Are you interested in developing local action plans for your local rivers and lakes?
•Do you and your community group need more knowledge and the confidence to apply for funding for your action plan?
•Would you like to learn, share ideas, gain expertise in the areas of water conservation and management?
•Would you like to learn how to develop and implement a local water management plan?
Then this course is for you
All are welcome: Tidy Town members, farmers, anglers, walkers, wildlife groups, teachers and anyone with an interest in water protection, conservation and management. There is no charge for this course.
Courses will be run with the classroom sessions online using Zoom and with outdoors group field visits to local waterbodies.
Two FREE courses are scheduled for N & S Longford with each course taking 6 days:
– 4 days (8 evenings) of online classroom sessions (by Zoom*)
(On Wed/Thurs evenings – dates to be scheduled with agreement of participants in Oct/Nov/Dec 2020)
– one day exploring lakeshore(s) in Longford – including biological sampling
(These trips were scheduled for 7th & 14 Nov 2020 for North & South Longford groups, respectively, but these dates were Covid-19 dependent and will now be moved to Spring 2021 in the light of the current restrictions to the end of Nov 2020.)
– a one-day Webinar day focussing on several existing community water projects around the country. (Dates to be scheduled.)
Follow-up field visits to these projects take place in Spring 2021.
The overall aim is to assist participants in developing community action plans for their local waters and develop projects suitable for funding.
* Note that if you do not have adequate Internet access it may be possible to organise a socially distanced physical classroom setting with computer access to the Zoom sessions.
Download Registration Form in MS Word format
Download Registration Form in PDF format
Listen to a clip from Shannonside Radio of an interview with Ken Whelan talking about small streams.
(Source: https://www.shannonside.ie/news/local/longford/free-online-water-management-courses-beginning-longford/)
Also check out this excellent video explaining how Catchments Work and the work of the Local Authority Water Programme. This Longford Community Water Management Training programme will help to deliver projects that will help to improve water quality and improve local biodiversity in the aquatic environment.
This course will have a "classroom" session – online using Zoom technology and a field session with sampling of water bodies in Longford – a lake shore environment.